The Halloween Season is in full swing! Here's a list of events we have planned so far!

​

October 11th-15th Halloween Bazaar

- This spooky bazaar will be held in Blightwood which neighbors the Fall dungeon.
During this bazaar you will be able to go to Blightwood, pick a shop, and place a vendor. This location will be advertised non stop with gates to all towns during its time. Players can enjoy gambling in the spooky casino, playing bomberman, and a special Halloween auction.
How this will work is there will be many ruins/buildings, and it will be a first come first serve.
You will need to have an OPEN HOUSE SPOT on one of your (3) accounts to take a vendor.
You will simply run to an open shop and click on the sign and claim the house, then place your vendor.
Houses with no vendors will be removed after 12 hours.
Vendors with no items will be removed after 2 hours.
You may place as many vendors in one shop as you can fit.
You may let others place vendors within your shop.
There will be bankers available.
HOW TO RENT A SHOP:
To rent a shop you simply need to find a shop with an outside sign that says "This building is for sale or rent!" like the picture below: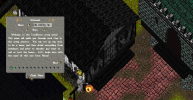 Once you find a sign that means that shop is currently open for rent!
Simply click the sign and click "Claim House".


PLEASE NOTE: You will need an open house spot to claim a shop.

DIDN'T GET A SHOP? NO PROBLEM!
Many shop owners are renting out vendors within their shop. Simply double click one of the pink deeds on the ground once you find one and if their rental price suits you, accept!
Those setting up vendors may want to bank items before coming to the festival and pull items from bank to vendor. To prevent stealing inside your vendor home.


October 17- 24th Undead Invasion -
An army of the undead will be rising up to eat the flesh of the living! Get your silver slayers stocked up and come help push the horde back! The undead will be invading many areas! You can expect special drops.
October 28- November 4th ZOMBIELAND! -
Zombieland is coming! Get your macros set, stock up on snacks, clear your work schedule, and make sure you let the family know to leave you alone during this time. There will be a Zombie outbreak in a random town every Friday at 5EST/4CST leading up to the Zombieland event. https://www.uoforum.com/threads/zombie-land-2021.109894/
Halloween Deco Contest -
https://www.uoforum.com/threads/2021-halloween-deco-contest.109893/#post-791664 Submit your Halloween house decorations in the Halloween Deco Contest thread for a chance to win prizes. Deadline Oct. 31
Last edited: